Only Read This AFTER
You've Watched The Video Above!
Dear fellow list builder,
The number one question on everyone's mind is:
"Where can I get unlimited access to my ideal prospects?"
First, let's rap about who your ideal prospect really is.
This is where a lot of marketers (even the pro's!) are way off.
Which screws up their chances to succeed online.
Vast mob marketers foolishly believe their best prospect is that guy or gal who's slaving away in a law firm or some big corporation.
Supposedly this person wants to escape the boredom and monotony of the corporate lifestyle through online marketing.
Sorry to burst your bubble, my little droog...
But nothing could be further from the truth.
Why?
Because People Feel Comfortable
Within Their Comfort Zone!
And people just don't buy when they're comfortable.
Here's how this translates into your business...
People are lazy and complacent.
Even if they kind of hate their job, they will do little to change things around on their own.
They might "look into" the idea of working from home, but they aren't serious to do anything about it or take action.
(I'm sure you spoke to these types. They say they want to join your business, but they never commit to a decision, right?)
In short...
The prospect won't move a muscle until he/she is forced outside their comfort zone.
Ironic, isn't it?
Yet... it's 100% true.
Most people who are toying with the idea of living the laptop lifestyle start taking it seriously only after getting fired, losing their main source of income or in the light of new evidence which increases the possibility of such incident occuring in the near future.
My point...
Your Best Prospects Are The Ones
Who Just Had Their World
Shakened Financially!
It's the prospects who feel the Earth move under their which are most likely to sign up for your business today.
To these guys and gals, procrastination is simply not an option anymore.
Alternative?
Cardboard box behind a dumpster.
These prospects are much better than the lawyer type above because the pain of not signing up with you is greater than the pain of paying the admission fee and not taking action.
This begs the question...
How do you get in front of these prospects quickly?
Is it affordable?
And can you do it without taking risks?
The answer is... Yes! Yes! And Yes!

Finally! Done For You Traffic Source
Gets You Prospects Who Actually
Want To Buy From You
Which Is Highly-Scalable And
Doesn't Get Saturated!
We're excited to let you know about a new emerging source of high-quality biz opp leads.
It's brand new (only been around for 6 months) and it's exclusive to our clients only.
This means, not only you're able to tap an unlimited supply of ideal biz opp seekers, who are willing to suspend rational thinking and make a buying decision, but also, it's guaranteed to keep producing for you due to it's singularity.
Let me explain:
Throughout history we've seen a clear pattern when it comes to rise and fall of game-changing traffic sources.
There's always the one traffic source which is considered to be the best industry-wide.
Whether it's Google Adwords, Facebook Ads, PPV Networks or Retargeting...
There's always the ONE media everyone considers the go-to traffic source.
For a while...
Until it suddenly stops working!
The pattern we spotted explains why almost every major traffic source (whether it takes a month or a year) eventually gets saturated and dies...
Wiping Out Tens Of Thousands Of
Internet Marketers Overnight!
Think about it...
It happened with Google SEO.
It happened with Google Adwords.
It happened with Facebook Ads.
It happened with Pinterest.
It's about to happen to YouTube.
Every major traffic source follows this pattern and there's no escaping it.
The reason lies in the human nature of our industry. Not in the traffic source itself.
Anytime there's news of a "high-converting traffic source," everyone and their brother hop the gravvy train and ride it hard.
And I'm talking e-v-e-r-y-o-n-e!
It's human nature.
We want a proven traffic source.
We don't want to risk it.
We don't want to make a mistake.
Anyway...
This exactly is the problem!
If Your Ideal Prospect Gets
Hammered With Pitches All Day Long,
He Gets Annoyed Quickly And Stops
Responding To Pitches Altogether!
The solution?
Having access to an exclusive traffic source that converts which isn't accessible to the general public.
This way, you can quickly and affordably scale your business without having to worry about the rug being pulled from underneath your feet.
Since you're amongst the elite group of marketers who's got access to this new traffic source, you're in good shape.
Why?
Because you know the general public won't ruin it for you.
How Can You Be Sure This
New Traffic Source Is Exclusive?
I'm going to let you in on a little secret...
You see... While the so-called traffic agencies get their traffic as cheaply as possible, because they don't have the skills and the resources and the experience to break even...
...I, on the other hand, get my leads at a very high cost.
These are top-shelf quality prospects that buy.
The downside?
Since they're friggin expensive, it's a pain to turn a profit quickly and scale.
Well... for most people.
Not for me though.
I don't mind the steep price.
Why?
Because I excell at converting cold traffic.
So I'm able to quickly get these leads to turn a FAT profit.
To the traffic agencies, who mostly broker clicks, this is voodoo magic.
Now, I'm not sharing this to brag.
But to help you see how since the "traffic agencies" can't afford the high-quality stuff (because they don't know how to make it pay for itself), they end up serving you dirt-cheap worn-out clicks that don't buy.
This way they still get to make a lot of money off you...
But without doing any of the hard "conversion" work.
And this is where linking arms with me is totally different...
The So-Called "Traffic Agencies"
Can't Afford The Time, Money And Skill Required To Cherry Pick The Most Responsive Leads For You...
...But Igor Can And Igor Does!
Would you like some proof?
Check out the almost-too-good-to-be-true affiliate promotions we ran for Michael Force's "ASPIRE" aka "Digital Altitude" business opportunity...
"Getting Lots Of Optins Is Easy,
But Can You Get Lots Of Sales With
Igor's New Traffic Source?"
"What Kind Of Results Can
I Expect When I Promote Aspire
With Your New Traffic Source?"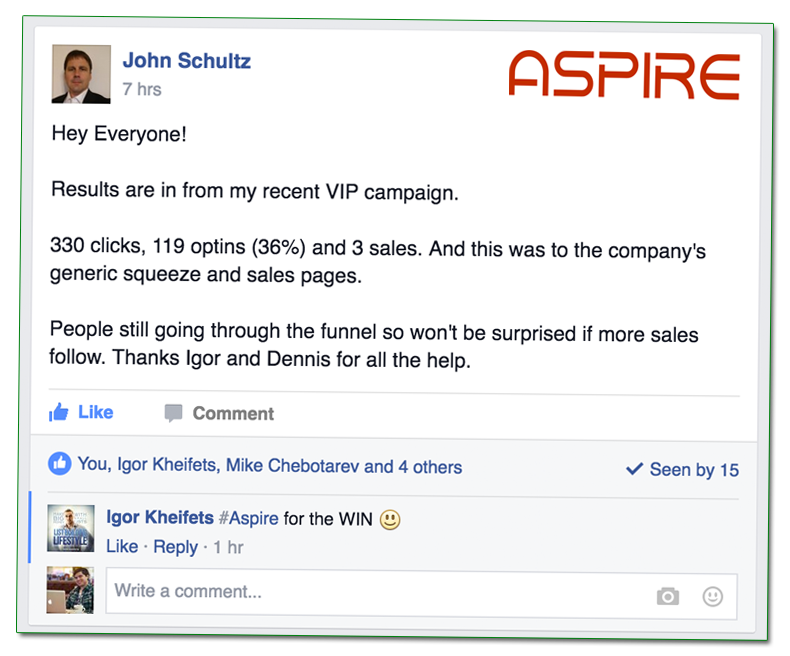 "Okay, Igor... What's Your Secret
To Get MASSIVE
Aspire Conversions?"
My new traffic source delivers a different type of prospect.
These prospects are engaged & warmed up before they hit your affiliate link.
These aren't "cold hits."
These are rabid buyers.
They're conditioned to engage offers.
Not just window shop.
Now, please don't get the wrong idea.
These aren't millionaires or anything.
These are normal every day people... but the difference is... they're extremely-serious about working from home.
They're hungry for success, because they no longer have confidence in the traditional way of making a living.
They hate the idea of trading hours for dollars. They're ready for a change.
In short...
They want what you got... And they want it now.

These prospects convert like c-r-a-z-y...
We've never seen conversions so high, so consistent, across so many different offers... all at the same time!
Plus...
It's different from all the other worn-out traffic sources in a big way.
It's growing... FAST!
And the smart marketers who chose to capitalize on this new traffic source early are already laughing all the way to the bank.
Now I know it's a big claim, and I don't blame you if you're skeptical.
That's why I'd like to allow you to test-drive this new traffic source totally risk-free!

Let me carry all the risk squarely on my shoulders.
How To Get Started Risk-Free:
Go ahead and submit your application using the short form below to see if you qualify for zero-risk guarantee.
Enter your contact details and we'll get back to you with additional information within less than 24 hours.
WARNING: Delay at your own risk because our schedule fills up fast.
The bulk of our business comes from repeat clients who buy traffic on weekly/monthly basis.
This leaves a scarce amount of promotional slots for new clients each and every month.
Why there's so many repeat customers?
Because after having tested our traffic risk-free and seeing results for themselves, our first-time clients decide to become "regulars" by reinvesting their profits...
Some clients refuse to work with anyone else but Igor...

This means, if you delay, you are likely to get stuck at the end of a very long line of internet marketers who are dying to put their greedy little hands on this exclusive new traffic source that generates sales, not just optins.
So don't delay...
Act now below.


Simply Fill Out This Short Form
And We'll Email You The Details
Within 12-24 Hours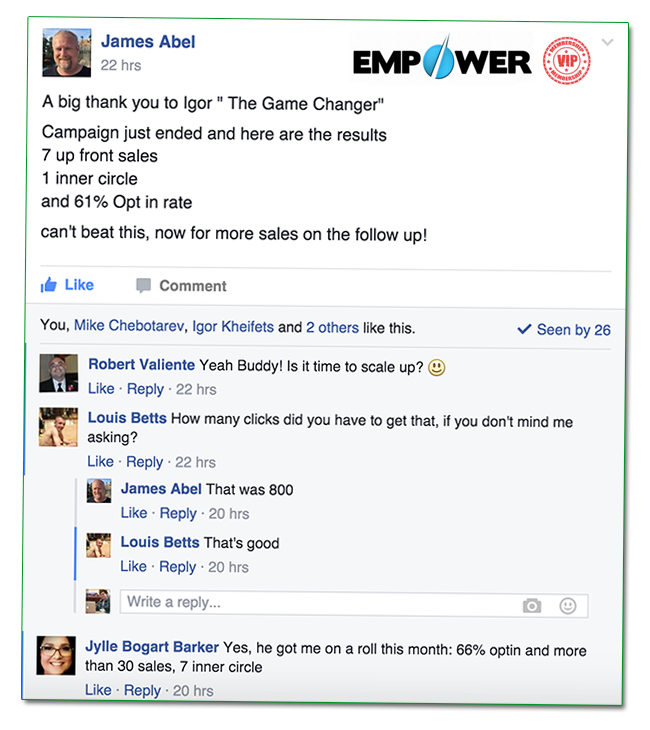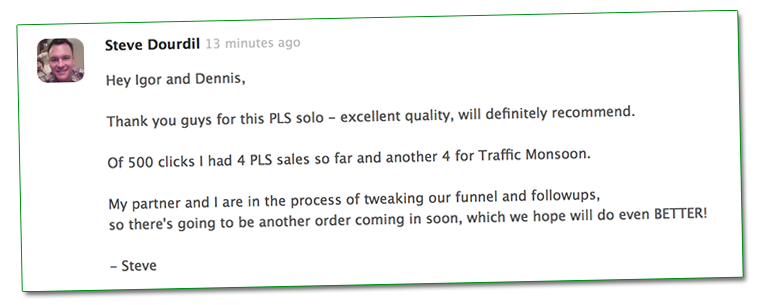 "Igor, I'm Excited To Finally Start Making Sales! Let's Go!"
Sincerely,
Igor Kheifets


P.S. This new traffic source blows Facebook, SEO and Google Adwords out of the water when it comes to business opportunities.
There's no terms or regulations...
No technical set up or learning curve...
And unlike any other "old" traffic source...
It's totally risk-free!
"Igor, I Would Love To Get More Sales!"

P.P.S. The following business opportunities automatically qualify for zero risk guarantee: