Attention every marketer who's been tricked into buying bad solo ads, bot clicks and deadbeat freebie-seeking leads...
"Watch This Short Video To Discover Why
We're Guaranteeing Your Next Solo Ad
Is A Successful One - Or It's FREE!"
As an entire solo ad industry hides behind
fine-print disclaimers , one Mad Russian
sticks his neck out to promise..
"My Traffic Converts
Or It's FREE!"
Seriously... Let Me Shoulder ALL The Risk Today. I Demand Your Solo Ad Purchase Delivers The Goods... Or You Pay Nothing!
From: Igor Kheifets, about to make you a life changing guarantee...
If you've ever lost money on crappy solo ads...
Had hundreds of visitors hit your page only to discover nobody opted in...
Or even worse...
Got duped into paying a high price for low quality adfly clicks...
Your life is about to take a turn for the better because..
I'm About To Do Something
NO OTHER SOLO PROVIDER
In The Entire Industry Can...
Ask any solo ad provider if they're willing to put their money where their mouth is and guarantee conversions...
...and you'll get the same lame excuse...
"We can't determine the resuls you'll receive with your solo ad. It is up to you to have a good converting offer and sales funnel. And it is up to you to know how well your squeeze page converts."
But what they're really saying is...
Whether or not you get good results - doesn't matter...
For them it's no risk. Just reward...
While you bare 100% of the risk square on your shoulders...
And if their traffic doesn't deliver the goods, your pocket takes a hit.
But why take a gamble with another solo seller...
When I can GUARANTEE the results you want.
My Solos Are A Sure Thing
As you might have guessed by scrolling through all the proof on the right...
My traffic converts.
And unlike some shady sellers....
Who attempt to conceal their low quality traffic with fake testimonials...
Asking their adswap partners to vouch for their integrity...
...without EVER testing their clicks with their REAL money..
My clients applaud the high-quality I deliver.
Today, I'd like you to get a taste of the supreme quality clicks with the risk square on my shoulders with my ballsy guarantee...
My Solo Gets You The Optins
You Need, Or... It's FREE!
Truly a bold statement. I know.
And I am happy to back it up to make your solo purchase with me today totally risk-free.
So you don't have to take another gamble with your online business...
And in the unlikely event my solo doesn't deliver the goods...
It's even better than a refund, because...
...I'll personally help you tweak your offer (or assist you in creating a new, better offer) and re-send the solo ad FOR FREE.
Why I Can Offer This
Better-Than-Risk-Free
Guarantee And Why Others Can't!
As a test I've been offering this ballsy guarantee to my private clients.
To this point nobody had to take me up on it...
...because my traffic converts.
So as you invest in a solo with me today...
I'm making your purchase 100% risk-free.
I insist on re-sending your traffic in full at no extra cost... unless my clicks deliver the goods.
Here's What To Do Next
To find out if you qualify for this risk-free offer, simply fill the form below.
Me or a member of my team will be in touch within 24 hours or less to let you know how to proceed.
(Even if you don't qualify at this time I can tell you how you can qualify very soon)
Dedicate to your list building success,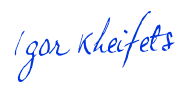 P.S. Have you ever had a solo seller deliver poor results and blame it on your offer?
Or worse... Have you ever had a shady character NOT DELIVER and stop responding to your emails and skype messages?
Now this can never happen to you again.
Fill out the form below to find out if you qualify for the ONLY risk-free high-quality solos on the market today...
"Check Out The Amazing Results My Clients Are Getting..."
"Plain & Simple, Igor's Traffic Converts!"
"...500 Clicks, 8 Sales!"
"Igor Gives You Conversions!"
"...One Of The Best Lists I've Ever Mailed!"
"...300 Clicks, 7 MTTB Sales!"
"#1 Person I Buy Clicks From Every Month"
"Igor, Your Subscribers Are Awesome!"
"100 Clicks, 4 Sales"
"Thanks To Igor, My Optins Shot Up
From 22% To 46%!"
"Igor's Traffic Just Amazing!"
"I Couldn't Close High Ticket Sales
Without You, Igor, Thank You!"
"500 Click Solo Brought In 12 Sales!"
Let Me Take All The Risk Away And Make Your Solo Purchase Totally Risk-Free