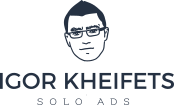 Refund Policy
Our mission is to help you generate the leads you need to grow your online business. As stated above, we guarantee a min 30% optin rate (50% optin rate on Enhanced, Distilled or Clean Verified traffic orders) on your upcoming advertising campaign. In other words, we're confident our leads are so targeted and responsive that 1 out of every 3 visitors we send your way will enter their email address on your email capture page. This guarantee is valid for as long as you use an Igor Solo Ads LTD email capture page, which we will build for you free of charge and connect it to your email autoresponder (Getresponse, Sendlane or any other autoresponder that is compatible with our systems) There's also an option to connect the landing page to another Autoresponder software through Zapier.
Your new email capture page is also the tracking tool which determines the final optin rate of your campaign. 3rd party tracking software data will not be considered because it can't be 100% validated. If we fail to deliver the promised optin rate on your campaign, you will receive an immediate no hassle refund or a full free re-send of your entire ad campaign to a website of your choice.
If you choose to run your advertising without our squeeze page, you forfeit the Optin Insurance guarantee. We will deliver the traffic to a landing page of your choice, but we won't be able to guarantee results. We will use our in-house tracking software as the benchmark tracker for your campaign. 3rd party tracking software such as ClickMagic, Bit.ly, LinkTracker, ClickMeter, TinyURL and others won't be considered as valid data.
We're committed to delivering 100% top tier traffic to your offer. Expect to receive most of the visits from United States and the remainder spread across United Kingdom, Australia and Canada. We use a smart geo-targeting software to block any non top tier visitors to your link. But unfortunately, no such software is perfect and there's a slight chance of you getting a trickle of non top tier visits. If you do, we will send additional top tier visitors to your landing page to cover for the non top tier visits. For example, if you ordered 500 clicks and received 535 visitors out of which 15 visitors are from India (non top tier country), we will send an additional 15 unique top tier visitors to your landing page to cover for those.
You may request to change the website (or any other technical aspect of your set up) at anytime. These requests are processed within 3 business days. The change request's deadline is 24 hours before your campagin goes live. If you submitted your request less than 24 hours before the campaign goes live, your campaign will be delivered to the initial link you agreed upon with your set up.
We have no control over your autoresponder account nor any third party services at any point. This is why, once we have delivered the subscribers to you, you are the sole one responsible for the email follow up, or any other marketing method you choose to pursue. We will not issue a refund based on the autoresponder settings you choose to proceed with, including whether or not to follow our advice and disable 'double opt in'. You can't claim a monetary refund for any unused/unclaimed free bonus associated with your order.
Cancellation Policy
If you wish to cancel your advertising campaign for any reason (as long as we haven't started delivering your order) your refund will be processed within up to 14 business days (usually much faster) of receiving a written request and you will be charged a 20% cancellation fee.
If your advertising campaign has begun and was delivered (in part or in full) you're no longer eligible to a refund.
Why The 20% Cancellation Fee?
If you book a plane ticket with any airline, as soon as you submit your order, either on the phone or on their website, your seat on that plane is locked. And if you wish to cancel your order - there's always a cancellation fee you pay. It's common sense when it comes to airlines. And we believe it's common sense with advertising campaigns too. Because just like airline companies who secure your seat on that plane that's flying out on a certain date at a certain time no matter what - so is the traffic you're scheduled to receive. Thus we enforce a similar policy with our clients as airlines do.
If your advertising campaign has started and you asked to put it on hold for whatever reason, it isn't eligible for a refund and it must be resumed within a max of 30 days. Failure to do so will result in termination of the campaign and no refund will be given.
Any unredeemed traffic orders older than 90 days aren't eligible for a refund.
Orders can be put on hold, but cannot be cancelled starting 48 hours from the scheduled campaign "run date." If for example, your campaign is scheduled to start on March 15th, the absolute final time to request cancellation is midnight EST March 12th.
You will be refunded in full if Igor Solo Ads LTD decides to not run your campaign for any reason.
Payment Plan Members
If you chose to pursue your order with a payment plan, you may choose to cancel your subscription at any time. Please note that if you submit your request to cancel less than 24 hours before your billing is due, you don't leave us enough time to cancel your advertising campaign prior to the next cycle commencing, and thus will be charged a 10% admin fee.
By placing your order and submitting the payment, you hereby agree to the terms and conditions stated herein in this policy. You also agree that you will not attempt to avoid, manipulate or circumvent any of these terms in any way with regard to the service you purchased.