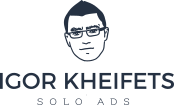 Cancellation Policy
If you wish to cancel your list building campaign for any reason (as long as the campaign hasn't started) your refund will be processed within up to 14 business days (usually much faster) of receiving a written request from you and you will be charged a 20% cancellation fee.
Why The 20% Cancellation Fee?
If you book a plane ticket with any airline, as soon as you submit your order, either on the phone or on their website, your seat on that plane is locked. This means its unavailable to other clients. And if you wish to cancel your order - there's always a cancellation fee you pay. It's common sense when it comes to airlines. And we believe it's common sense with list building campaigns too. Because just like airline who secures your seat on that plane – we secure your slot in our busy schedule for you. Thus we enforce a similar policy with our clients as airlines do with theirs.
If your list building campaign has started and you asked to put it on hold for whatever reason, it isn't eligible for a refund and it must be resumed within a max of 30 days. Failure to do so will result in termination of the campaign and no refund will be given.
Any unredeemed leads older than 90 days aren't eligible for a refund or cancellation.
Orders can be put on hold, but cannot be cancelled starting 48 hours from the scheduled campaign "run date." If for example, your campaign is scheduled to start on March 15th, the absolute final time to request cancellation is midnight EST March 12th.
You will be refunded in full if Igor Solo Ads LTD decides to not run your campaign for any reason.