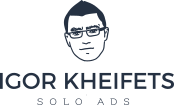 Service Description
This is a Done-For-You copywriting service where we (Igor Solo Ads LTD, the provider) are committed to write and create a custom "Bridge Page" for you.
Refund Policy
You are investing in our time, intellectual property and experience to create and deliver this custom service. This is why this service is non-refundable.
Payment Plan Members
If you submitted your order via a payment plan (2 instalments), you will receive full access to your "Bridge Page" only after the completion of the payment. Shall you fail to follow through on your financial commitment, we reserve the right to revoke your access until you settle your debt. We also reserve the right to freeze the delivery of any additional components of this order until it is fully paid for.
Rights
You have got personal use rights only. You are not allowed to give away, sell, exchange or trade the product, which is intellectual property of Igor Solo Ads LTD, with any other person or entity.