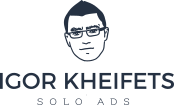 Done For You Emails Terms & Conditions
What's the product/deliverables?
You're investing in a done for you email writing service where we (Igor Solo Ads LTD, the provider) are committed to write 30 marketing emails per month for you. This is a copywriting service where you pay us for our time and expertise and the product is the emails we write for you.
If you sign up within the first 7 days of first visiting our website (bizoppemails.com), you're also eligible to have us load these emails into your autoresponder account free of charge. If you didn't act in time to qualify for this bonus, we'll email you the 30 emails in PDF format.
This is an ongoing service and you, the customer, will be billed monthly for as long as you choose to remain an active member. On each billing cycle, you pre-pay the 30 emails.
Cancellation Policy
You may cancel your membership at anytime. You may do so by emailing our customer support desk at support@igorsoloads.com with subject line "Cancel Done For You Emails." Cancellation requests are processed within 24 hours. The cancellation request deadline is 36 hours before the next billing date. If you submitted your cancellation request less than 36 hours before the next billing cycle, your account will be cancelled after you've been billed for the following 30 days worth of emails. For example, if your billing date is on August 15th and you submitted your cancellation request on August 14th 10:15pm, you will be charged as usual on August 15th, you will receive the 30 emails you paid for and your account will be cancelled.
Refund Policy
You're investing in our time, intelectual property and experience. That's why this service is non-refundable.
How To Claim Your Emails
Upon purchase you will be prompted to fill out a form just like
this one
where you'll share the details necessary for us to upload your new emails into your autoresponder when they're ready. If you fail to fill out this form within 72 hours of purchase, we will forward you a PDF file containing your emails to your Paypal email address.
Rights
You've got personal use rights only. You're not allowed to give away, sell, exchange or trade the product, which is intelectual property of Igor Solo Ads LTD, with any other person or entity. If you violate this term, we will pursue you in court of law. For additional information you may contact our attourney at: www.jhrlegal.com