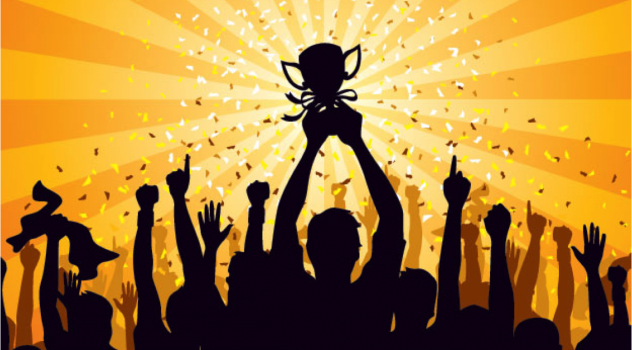 The final part of my Ultimate Solo Ads guide teaches you how to buy solo ads from solo ad sellers, for any niche and on any budget.

What's a solo ad?
A solo ad is when you rent other people's email lists for a fixed fee for a single ad run.
It's an affiliate-friendly traffic strategy that allows marketers to drive targeted traffic to any link really fast without having to worry about any rules, regulations or terms.
You can promote affiliate products (or your own products that make claims advertising networks like AdWords and Facebook don't approve) while building your list and no one is going to penalize you for that.
Solo ads give you instant access to hundreds of thousands of highly-targeted email leads, no matter who you are, no matter your budget, no matter your niche and no matter how skilled or connected you are.
It's the perfect shortcut for someone without a list to get one quickly while making money.
Solo Ads = Email Traffic
Another huge upside is that solo ads deliver primarily email traffic.
Email leads buy things.
In a head-to-head performance assessment email advertising beats almost all other traffic sources and goes toe-to-toe with Organic Search, Referrals And Paid Search. Social trails way behind. It offers fewer paying customers and 1/20th the customer lifetime value of email.
That's why I'm sticking to email marketing and solo ads as my primary marketing meda for the next 5 years.
Email lead pool dwarfs social media.
In spite of all the attempts by the Social Media mavericks, email isn't going anywhere.
We use email to share documents.
We need an email address to create an Apple ID and an iCloud password to store our photos.
Come to think of it, we can't even start a Twitter or Facebook account without an email address.
No matter how you spin it – people used email, use email and will keep using email to store and share important information with each other.
So not only you're getting a much better customer, but you're also getting more of 'em!
You can access more leads, faster and cheaper with email than you'll ever hope to reach with social media marketing – free or paid.
Another reason internet marketing newbies go nuts over solo ads is the simplicity.
You need a nuclear physics MBA to run Native Ads or Facebook ads without wasting 90% of your ad budget on dead hits.
You need to understand pixel fires and meta code, lookalike audiences and demographic targeting nuances, mobile vs desktop breakdown and be familiar with roughly 74 types of different ad placements (73 of which are as useless as tits on a bull).
So you get the picture…
Solo ads are much simpler.
Negotiate price, set up tracking, write your swipe, submit order and watch your list grow.
Unlike other methods, where driving traffic becomes the sole purpose of your day-to-day routine, solo ads take almost no time to manage.
Its as easy as pushing a button.
Solo ads allow you to work on your business, not in it. The leads come in even if you sleep.
Now comes the part where I say solo ads aren't a magic bullet.
It's when I'll mention the downsides such as being scammed by shady solo ad sellers, running ads on beaten-to-death lists and even overpaying for brokered traffic.
I'll also warn you about you probably losing money on your first solo ad, because your funnel is going to suck.
But then I'll say how it's all worth it, because you just have to get it right once and profit for years, like Dennis Ray – once a frustrated web developer – today Chief Operating Officer of Igor Solo Ads – who walked away from his day job within 6 months of getting involved with solo ads.
How?
After discovering solo ads as a traffic source, he followed the perfect funnel framework I shared in the 1st part of this Ultimate Guide To Solo Ads to build a high-converting information product sales funnel that broke even or made a profit on almost every solo ad he run.
Dennis recorded this case study video on September 20th 2014. His funnel is still churning out 100%+ ROI on almost every solo ad buy. (Dennis: "Since I helped Igor write and edit this guide, I can confirm that this is true.")
Solo ads are still heavily under-used by marketers.
This creates an opportunity for you to operate with virtually zero competition. But its also a downside, because there's virtually no reliable authorities that could offer advice on the legitimate places to buy solo ads.
It creates an issue for beginners who would like to buy solo ads without being scammed for whatever little money they have.
In this part of the Ultimate Guide To Buying Solo Ads I'm going to share specific solo ad sources you can use, other sources to stay away from and all the little nuances of buying solo ads profitably.
Where To Buy High-Quality Solo Ads For Any Niche
If your business is a Ferrari F430 then your sales funnel is the 483 bhp 4.3-liter V8 engine.
Your email follow-up and market positioning is the 6-step gear box and Pirelli tires that translate power into top speed of 196 mp/h (follow my Autoresponder 101 guide to make sure you got these covered).
Solo ads are the gasoline. The quality of the fuel is a critical component for anyone who wants to get the most oomph out of their red stallion.
Here's a short list of trusted solo ad sources that offer high-quality leads. I compiled this list through years of testing. I cut the fat, leaving only the best sources in terms of price-quality ratio and trust.
Having this list doesn't shield you from getting scammed. Even the most hardcore media buyers get conned every now and again. But it dramatically lowers your risk.
Although I briefly mention some, you won't find many solo ad market places on this solo ad short list. I advise to avoid those like the plague.
Same goes for Solo Ads Facebook groups. They're even worse. They're full of shady characters either reselling clicks at a markup or flat out sending junk through domain redirects. Another place to stay away. Ignore my counsel at your own peril.
WarriorForum
URL: http://www.warriorforum.com/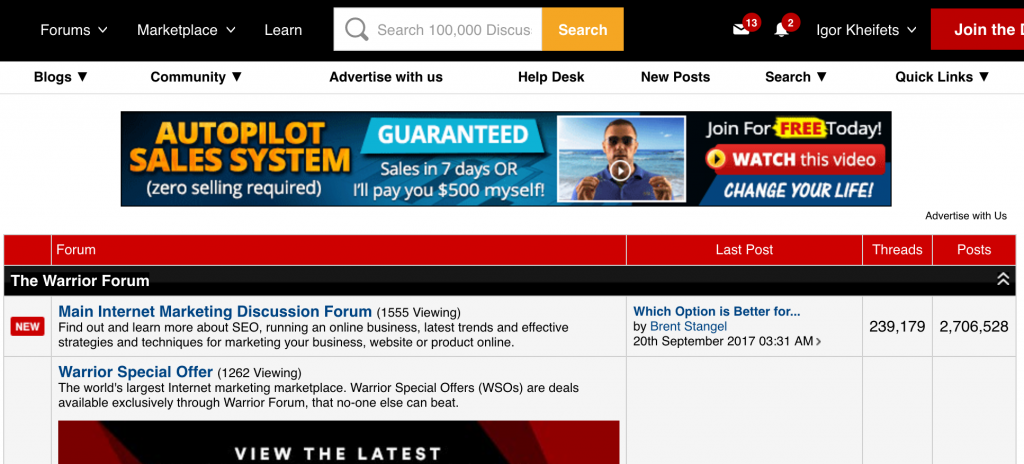 Niches: Internet marketing, biz opp, self-help, forex, dating, weight loss, and a great place to buy solo ads for beginners.
You can go as low as 50 clicks or as high as several thousand clicks per day. You get to choose from dozens of solo ad sellers who are willing to cut each other's throat for your money.
In addition, you can even play them against each other to arm-twist them into discounting your traffic.
The choice can be overwhelming, though. All solo ad sellers sort of lookalike, make similar claims and charge a similar price.
The upside, however, is that they won't dare mess with you, because they value their reputation more than money. If things go south, they'll step up and make things right.
How to buy solo ads on the Warrior Forum
Click on the Forums panel and View All Forums:
Go to Classifieds:
Search for "Solo ad:"
Reach out to the solo ad sellers with most thread views and comments first.
The fact they've got lots going on in their threads means they've been selling for a long time. You can't do that on the WarriorForum unless you got good traffic.
Go to the last page of their thread:
See the last comment date:

As long as the solo ad sellers update their thread with fresh testimonials – they're also replenishing their list with new leads.
Also examine how responsive the solo ad provider is in responding to questions in the thread. WarriorForum solo ad sellers are expected to respond the same day. Often within the hour.
Once you've made sure the solo ad seller offers lots of proof from previous clients, responds quickly and keeps his thread tidy and up to date, go back to the first message in the thread for more information about their traffic.
If you need to talk to the vendor before ordering, send vendor a private message.
Click on their profile, and hit 'Send Private Message'. Your Message can look something like this:
Some solo ad sellers use WarriorForum as an advertising platform, but prefer to talk to customers on Facebook.
Repeat the process for each of the solo ad sellers you're considering to buy from.
Keep in mind the WarriorForum isn't associated with any of the solo ad sellers on the forum. But if you run into trouble, you can submit a complaint by posting to their thread and the mods may step in.
Arcamax
URL: https://www.arcamax.com/mediacenter
All niches. It's different from most solo ad sellers who own opt in lists they mail offers to.
Arcamax is a content directory with a large audience. It offers advertising spots within its content in a wide variety of niche markets – big and small.
This isn't some one-man show solo ad seller. This is a huge publishing company. Approach them as if you were buying an advertising spot in a large circulation newspaper. Because you sort of are.
If it's your first time buying, you'll need a rundown of all the options. It's best to talk directly to Richard Young, the Vice President at ryoung@arcamax.com.
You'll be able to choose from a wide variety of ad types starting from straight up solo ads to their email database and all the way through to mini in-content text ads:
editorial (aka advertorial) ads:
banner placements inside their comics newsletters:
Arcamax also runs advertising specials all the time.
Ideally, you don't want to hide behind your email address. Give them a call at: 757-596-9730 ext 206 and mention me and this guide for VIP treatement.
James Whelan Agency
URL: http://datacards.thejamesrwhelanagency.com/
All niches. Branded as the most powerful name in advertising, JWRA manages the mailing lists for sites like WMD.com, teaparty.org and michaelsavage.com. They are great solo ad sellers.
If you happen to be pushing a political agenda or if you do better with a demographic that matches the political views of any of these sites, give JWRA a shot.
Besides emails, they also offer phone and postal leads – business and consumer.
There's two ways to advertise with JRWA. You can give them a call and ask to have the agency look up a publisher for you. Or you can search for a specific list here.
The system will present fresh relevant lists to what you're looking for:
Click on the list you like and you'll be presented with more information about the database such as what's the website it's built through, the demographics, interests, belief systems, price, etc
If you like it, contact Sherrie to get started:
If you'd like to speak to a real person before working with them, contact EJ at ej@thejrwa.com.
BMI Elite
URL: http://bmielite.com/
All niches. Huge lead directory broken down to all imaginable categories such as religion, income level, geography, reading preferences, sports fans and a million other characteristics.
It's the place to acquire large databases for bulk mailers. May not be a great fit for solo ad beginners. But if you're an expert email marketer and a veteran media buyer, you should tap into their database.
Click on Targeted Selects:
Then click on Demographics Select
Pick your crowd:
Don't limit yourself to just one category. Cross-select your demographics and psychographics for ultra-targeted lists.
Once you know what list you want, contact the support:

LaunchByte.io
Niches: Software. If you plan on releasing a software product, connect with nice folks over at LaunchByte, they'll help spread the word.
It's a unique start up hub that helps software companies. Founded by a software expert with over $500,000,000.00 in exit revenues, this company helps software startups with growth at any stage of their development.
Nextmark
URL: https://lists.nextmark.com/market
All niches. Nextmark is the Google of lists. It offers highly-specific email lists, phone lists and address lists.
You can get very specific Nextmark. For example, you can acquire a 1,474,909 email list of internet dating services subscribers in the United States at just $80/M.
And then you can cross-reference this list with marital status and zip code.
Nextmark represents thousands of list owners. The targeting level is insane. I promise, you never seen anything like it.
Dedicated Emails
URL: http://dedicatedemails.com/
Niches: Health, Outdoors/Survival, Political, Finance.
owned by Mike and Brian Litman (Litmans for short), Dedicated Emails are the go-to source for any major player in the survival and health niche.
Traffic For Me
URL: http://www.trafficforme.com/
Niches: Business Opportunity, Health, Survival, Personal Development. While companies like Dedicated Emails mail their own data, Traffic For Me brokers other people's traffic.
Most traffic brokers in the solo ad niche resell traffic you can easily get yourself at a markup. And most of that traffic, of course, converts like crap which is to say – doesn't convert at all.
Traffic For Me is the only solo ad broker I trust. They offer what no other solo ad broker can – access to lists that are off the solo ad market. The publishers they're connected with sell traffic exclusively through the T4M solo ad agency.
T4M offers a self-serving interface. It's like vending machine for traffic. You don't have to talk to anyone (unless you want to). Just run your order through the website.
Here's how to order traffic with Traffic For Me solo ad agency.
Once you've registered your free account and logged in, you'll see a self-serve traffic panel:
Choose your target market:
Depending on the target market you chose, you may be presented with traffic quality options. For example, T4M offers 4 traffic quality levels for business opportunity solo ads: premium email, 100% top 5 countries (USA, UK, CAN, AU, NZ), super premium email, text message traffic.

While there's only one in the Health and Diet category:
Next, select the traffic package size:
Then you'll be prompted to choose when you'd like your clicks and how often:
Submit your order by clicking the green button on the lower right, then review your order summary on the left and choose your payment option:
Agree to terms and submit pay:
When you've completed your order, your campaign will show up in the campaign dashboard:
Traffic usually starts with 24-48 hours.
When the run is over, your stats will be presented like this:
Udimi
URL: https://udimi.com/
Niches: Internet marketing & business opportunity. Udimi is the Uber of solo ads. Sort of. They make money by connecting solo ad buyers and sellers through a marketplace interface.
While there may be a few good solo ad providers on Udimi and half a dozen other solo ad marketplaces like it, my advice is to avoid solo ad marketplaces altogether, at least, until you're a seasoned pro with solo ads.
Why?
Because other than price, there's no way to redline the good solo ad sellers from bad ones.
Any solo ad marketplace's rating system is inherently deceptive and it could easily be manipulated by sophisticated scam artists and mediocre traffic pushers who offer great customer support and are willing to send couple hundred extra clicks to keep customers from complaining or worse – from posting their real results.
Besides, the marketplace owner gets a cut off each transaction that takes place. So the more orders occur on the solo ad marketplace, the more money the owner makes. See how he may be incentivised to push an agenda here?
You're gambling your advertising dollars and they got the house advantage, so expect your results to be mediocre at best.
Igor Solo Ads
URL: https://www.igorsoloads.com/
Niches: internet marketing, business opportunity. Premium quality business opportunity leads with a conversion guarantee.
1st, the elephant in the room. Yes, this is my solo ads agency. After all, how do I know so much about solo ads?
2nd, yes, I'm shamelessly plugging my agency, because I believe I'd be doing you a disservice if I didn't. After all, if you knew you had cure for cancer, wouldn't you shout from the roof tops about it?
How is Igor Solo Ads different from all the previously-mentioned solo ad sources?
What happens if you buy a solo ad and it doesn't convert? Most of the time – nothing happens. You absorb the damage and go back to working on your sales funnel.
Solo ad sellers, just like all advertising agencies, including Facebook Ads, Instagram, YouTube and AdWords, hide behind fine print disclaimers. "We can't guarantee results," they say, "because they depend on so many factors!"
Solo ads are risky business. You carry all the risk on your own shoulders.
That's why, since 2014, Igor Solo Ads, unlike other solo ad providers, has been the only solo ads agency that guarantees conversions or your money back.
Igor Solo Ads doesn't charge you extra for protection. It's called "Opt In Insurance" and it's freemium – a no cost add on to your solo ad campaign.
Here's how Igor Solo Ads works:
You get a new custom high-converting squeeze page for your primary offer.
The page connects to your email autoresponder. It's mobile friendly. And it's yours to keep and use with other solo ad providers for life.
Igor Solo Ads guarantees your new page converts at a min. 30% optin rate or your entire traffic purchase becomes free. Often, however, you get a 40%+ opt in rate.
Besides guaranteeing one out of every three visitors to subscribe on your email list, we add another layer of protection that helps you make more money from your list.
Your new landing page is equipped with real-time email validator software. It verifies emails your potential prospects enter in the form in REAL TIME.
All optins you're getting are real. Your potential subscribers can't use fake emails even if they wanted to! This is BIG because it will not only increase your email delivery rates (and thus opens rates and clicks from your emails) but also keep your list squeaky clean from spam traps and dead emails.
Goes without saying, but I'm going to spell it out anyway: Igor Solo Ads does not guarantee sales at this time.
There's more solo ad spots you can hit. But these are enough to get you started on the right path.
Watch Out For These 4 Potential Solo Ad Scams
As in all businesses and professions, the solo ad industry has its share of bad apples. I take no pleasure in telling you this, but some are unethical – and, sadly, a few are dishonest.
4 Ways Solo Ad Sellers Can Scam You
1. You may be a victim of being sold fake traffic.
Solo ad industry is the internet's version of wild-wild west. It's not regulated. There's no solo ad police that's going to chase and punish wrongdoers.
That's why some shady characters take advantage of solo ad beginners by selling cheap bot (fake) solo ad clicks. Bot is short for robot. In other words, these aren't real human beings. These are computer programs which are designed to create a false appearance of activity. They're extremely difficult to spot upfront.
I've personally bought tens of thousands of dollars worth of fake traffic over the years testing different solo ad sellers. If you're in doubt, it's better to hold back and do some further research.
2. The price you see advertised may not be the price you pay.
Some solo ad sellers wile people with cheap prices – usually between $0.40 and $0.60 CPC – and then send crappy clicks that result in low opt in rate and no sales.
As a result, you end up paying $3.00-$7.00 per an unresponsive lead
3. You may be overpaying for brokered clicks.
While traffic brokers like Harris Fellman from Traffic For Me are upfront about acting as conduit between you and the solo ad provider, many aren't. There's a whole slew of one-man-show solo ad providers who don't even have a mailing list. They sell traffic at a markup and resell it to other solo ad providers (which you may already be buying from).
4. You may be a victim of black hat lead injection.
I once got taken for $10,000 in solo ad buys by a solo ad seller who specialized at making fake clicks look real.
He developed a sophisticated computer program that injected fake email addresses into the opt in form on my squeeze page and then created a fake appearance of activity on my sales page.
This douchebag was sending me fake leads for weeks.
When I confronted him and threatened to expose him with video evidence of his treacherous ways, he came clean and refunded me.
He's no longer in business. But the lead injection industry is booming. And you should be careful dealing with solo ad sellers that go through great lengths to make their fake traffic appear real.
8 Ways To Protect Yourself Against Solo Ad Scams
The key to apprehending solo ad con artists is in using the right tools and knowing what to look for.
Here's tools and tactics you can use to protect yourself against solo ad scams.
– Use HotJar – originally created to identify usability issues, HotJar records browsing sessions of your site visitors.
Monitor your squeeze page, bridge page and your sales page traffic to identify unusual activity. Besides being great value for money, HotJar offers video evidence you can use to confront the scam artist or to spread the word about their dishonorable way (or both!).
– Ask Questions – the way you learn about a solo ad vendor is by asking specific questions and listening carefully to the answers. Here's the questions I recommend asking:
1. What offers work best for your list?

2. What offers don't convert with your list?

3. What's the sales funnel(s) you've used to build this email list?

4. Have you done any affiliate promotions in the last 30 days? If so, how did they go?

5. How long does it usually take to deliver clicks?

6. Will you write the email swipe (creative) or will I need to supply one?

7. Are there any guarantees?
These 7 questions allow you to collect enough information to make a wise decision about whether or not you'd like to work with a solo ad provider.
Start slow. Don't fire off the entire set in a single email. Ask one question at a time and actively listen.
Use a friendly tone. Avoid creating a hostile dynamic.
You're looking for inconsistencies in the solo ad seller's responses.
For example, when you ask the solo ad provider about their sales funnel, you should be able to get an answer pretty fast, because you can't build a list without a funnel.
But if the seller starts acting funny, ask questions or suddenly becomes elusive – you know something's up. You may be dealing with a broker who resells other people's traffic but who doesn't want you to know.
Or they could be someone who tries to sell you a different form of clicks – such as "funnel clicks" – but doesn't want to admit it.
If they share their sales funnel – opt in and take a look.
Ask yourself if this seems like the kind of funnel that's designed to produce sales its owner.
Is it a product funnel or is it just a squeeze page and an opt in bribe without an offer?
Or perhaps it's classic reseller funnel that starts with a squeeze page and leads into 2 more?
Shady solo ad sellers are after a quick buck. They won't build a product funnel just to sell clicks.
They'll make an appearance of a funnel to fool customers, but in reality they're just buying solo ads from other providers to build their own solo ad list and sell traffic.
Even though they have no funnel of their own and no product that could allow them to build a buyer list, many solo ad sellers will lie about having one.
They'll try to convince you their list is crammed with buyer leads. That's when I love to ask them if they've done any affiliate promotions in the past 30 days.
This question allows to quickly separate the liars from the solo ad providers who tell the truth, because a buyer list is the ultimate unfair affiliate advantage. Anyone who has a buyer list uses it to make money as an affiliate and will brag about it.
If the seller honest about not having done any affiliate promotions in the last 30 days, consider a different provider.
Chances are this seller is building lists only to sell traffic. That's not the sort of list you'd like to advertise to.
You'll get the best results with lists that are built through selling info products, where the subscribers know, like and trust the list owner (even if they decided not to buy from them).
Ask how long does it take to deliver the traffic when it starts. When you get an estimate from the seller, ask if it's guaranteed.
Many solo ad sellers will say pretty much anything they think you want to hear just to score with you, but in reality, many of them can't deliver. That's why I love to put them on the spot by asking for a delivery time frame guarantee.
The solo ad sellers, even the bad ones, know they can easily be held accountable to the commitments they make in writing. So when you ask them about a delivery guarantee, watch how some of them drop off, act weird or try to "fine print" their way out of a commitment.
These 7 questions are enough to get you started. As the dialogue unfolds, you'll spot more opportunities for questioning.
Remember – look for those red flags. Don't let them fool you.
– Run A Small Test – you can ask questions until you're blue in the face, but the skilled solo ad con artists can still lie their way out your interrogation. There's also solo ad sellers who aren't trying to scam anyone – they just sell really bad traffic. Eventually, you'll have to test their traffic to know for sure.
Make sure you've got tracking place throughout your entire sales funnel.
Common mistake I see marketers make is to watch their opt in rates and nothing else. Opt in rates can be easily faked.
Here's the red flags you need to look out for:
1st Email Follow Up Bounce Rate – if a solo ad swindler sent you bad clicks, you'll immediately be able to tell by assessing your email bounce rate.
Bounce rate is the percentage of emails that can't be delivered. They could be full inboxes, temporarily disconnected, abandoned or non-existent (hard bounce).
While email opens are subjective, because they depend on the sender's IP address, email swipe, subject line and a few other things – bounce rates don't lie.
Healthy bounce rate should be below 3%. If you're getting 8%+ bounce rates – you may have been scammed.
Optin-To-Sale Conversion – it's the ultimate traffic quality test and the hardest thing to fake.
I haven't (yet) met a solo ad seller who has gone through the trouble of figuring out a way to create a false appearance of sales.
Of course, I'm not saying you should ditch a solo ad provider unless their traffic converts at 17%. Keep realistic expectations. Depending on what you're selling, strive to a healthy benchmark of 1-2 sales per 100 opt ins.
Tier 1 Percentage – amount of visitors you receive that come from tier one countries such as United States, Canada, United Kingdom, Australia and New Zealand.
You can except a quality solo ad to contain 85% top tier clicks. The rest should be spread all over the world.
If, however, you notice one dominant non-top tier click source, you may be a victim of a scam. It could mean the seller is cooking the numbers.
I once got ripped off by a solo ad seller who sent 90% USA and 10% Japan traffic on each solo ad. No other countries. Just United States and Japan. Turned out all of it was fake. He figured if he sent 90% top tier clicks, no one would ask questions. But Japanese clicks tipped me off.
Referrer URL – the page that the prospect was on right before they landed on your page.
Referrer URLs are logged by virtually all tracking software, so I recommend using Quality Click Control. Monitor this parameter to find out where the solo ad provider is sending you traffic from and whether the source checks out.
If the provider sends traffic via email inboxes such as Gmail, Yahoo and Hotmail – you're getting 100% email and 100% legit clicks.
If, however, you notice weird domains showing up, start asking questions.
Traffic Distribution – watch how your solo ad is delivered.
Do clicks come in evenly over the course of a few days or were they delivered in a short burst? Is it consistent and calculated or is it sporadic?
Often, if the solo ad seller is pushing fake traffic, the clicks are delivered super-fast, and often the same day. So all the seller has to do is to turn it on and it comes flooding your funnel. The traffic is also usually delivered in batches. Imagine getting most if not all your traffic in the period of a few hours.
If the traffic is real, it should take the seller more preparation to get started. Plus, real email traffic spikes at first and then delivery speed drops and eventually subsides.
How To Negotiate Solo Ad Prices With Solo Ad Sellers
Solo ads offer a wide range of prices from as cheap as 30 cents a click all the way to two dollars.
You can also get 5 cent clicks on Fiverr and 12 cent clicks from AdFly, but I can hardly call those solo ads. Hell, I can hardly call that traffic!
Anyway, no matter the starting point, you can almost always (with a few exceptions) haggle your way to a better price, because solo ad pricing is a lot like the stock market – it's based purely on belief of the seller of what their traffic costs.
For example, solo ad sellers that offer clicks at 30¢ obviously don't value their list much. The only reason they offer traffic so cheaply is because they can't monetize it any better promoting affiliate offers.
That's why I never buy dirt-cheap solo ads. The price gives away the poor quality.
Traffic that converts is most often priced around the dollar mark. Either slightly below or slightly above.
Premium quality solo ad clicks tip over $1.50 CPC.
Since you're buying several hundred clicks at a time at least, even a 10¢ makes a huge difference.
Solo ad sellers expect you to haggle. They take price negotiation into consideration before listing their costs.
I discovered that you can shave up to 30% of the Cost Per Click simply by asking, so don't hesitate to try.
How To Get Solo Ad Sellers To Lower Their Prices For You Without Coming Across As Pushy
Initiate negotiation letting the solo ad seller you come with long term intentions. Solo ad sellers are often willing to offer discounts to buyers who buy in bulk and buyers who buy regularly (once a week or once a month).
Often that alone will be enough to elicit a discount.
Whatever the price solo ad seller names first – don't agree to it. That's your anchor. It can only go down from here.
Decline the solo ad seller's offer elegantly, without confronting them and without using the word "No"
Sometimes the solo ad seller will make you a better offer. Other times they'll ask what are you willing to pay. If they do, throw an extreme anchor
The negotiation started at almost $1.00 CPC.
My first anchor is $0.52 CPC.
The anchor's job is to create a reference point that makes other offers seem higher.
The solo ad seller almost never agrees to the extreme anchor. But almost always makes a lower offer than the original one
$0.80 CPC is great. We just saved 15 cents on a click. That's $150.00 in savings if we buy 1,000 clicks. But we can probably do better, considering how the solo ad seller was willing to drop almost 20% of the cost right away.
Once again, an elegant "No" without saying "No"
There's no risk in saying "No," because we can always come back to the last named price.
This step may require you to wait for a couple of hours or even days.
Therefore, it's important not to be desperate when buying solo ads. If you need traffic now, you'll always pay more.
Several days later, the solo ad seller comes back with another offer..
$0.72 CPC is half-way down to my initial extreme anchor. That's a 23¢ discount.
Most marketers would have said yes by now. And they'd be right to do that. But remember – I've been buying and selling solo ads for nearly a decade – So I'm quite ambitious!
Another "No." That's the 3rd time I'm turning him down.
5 days later, he makes me one final offer:
He came down from $0.92 to $0.55 CPC. I didn't expect them to go all the way down. But it just shows the power of anchors.
Now I get twice as many clicks for the same money I would have gotten otherwise.

How To Write Your Solo Ad Swipe (Email Creative)
Solo ad swipe is the email you give the solo ad vendor you're buying the solo advertising from to blast his list.
Some solo ad sellers prefer to write their own email creative. Most, however, will take anything you give them.
The purpose of your solo ad swipe is to get a targeted & committed click to your squeeze page. It's not to close the sale, overcome objections or build your brand. Therefore, leave that part to your sales funnel.
Since subscribers on the list you're mailing don't know you or your product, use the problem-solution formula to spark their interest and curiosity. It is the best way to cherry pick the most targeted leads on the solo ad list you're working with.
There's four things that make the perfect solo ad swipe:
– Subject Line – the most important part of the email creative, especially if you're running a solo ad in E-zines where you're not guaranteed clicks.
If your subject line bombs – your entire solo ad goes kaput and you've wasted your money.
The good news is you only need one solo ad swipe (or two at most) to successfully run traffic using solo ads.
Don't try to reinvent the wheel. Here's 2 foolproof subject line formulas you can use:
1. How to get [outcome they want] without [thing they hate]
Examples:

How to make money online without previous experience
How to make six figures without a degree
2. For people who [are experiencing problem]
Examples:

For people who hate their boss but can't walk away from their job
For people who hate the sound of their own voice
– Intro – the purpose of the subject line is to get the reader to read the first line of your email. The purpose of the first line is to get her to read the second line.
Since the intro is the most precious part of your email real estate, don't waste it on verbal foreplay.
Cut to the chase by describing the problem your target market is experiencing. This will gain the reader's attention and interest.
It will open her up to wanting to know more about the solution.
– Body – tease the solution to the reader's problem by talking about how it's different from other similar solutions the reader has been promised in the past.
This, of course, requires you to know your market. You have to know what they've been sold in the past that didn't work, what your competitors are selling and position your solution differently.
– Call To Action – tell the reader what she needs to do to learn more about the solution. Don't dilly-dally. Don't try to be funny, clever or creative. Just tell her where to click.
As long as you stick to these 4 rules, you'll always pull maximum opens and clicks without compromising reader's commitment and interest.
What Does A Good Solo Ad Swipe Look Like?
Here's why this solo ad swipe works
Subject line isn't wasting anyone's time. If the reader wants to quit her day job but doesn't know how, then she's going to open and read this email. Or at least save it for later.
Intro sparks interest through a story. It also positions me as the expert who has achieved what they would like to achieve.
By putting the intro into story context, the email creative immediately appeals to our deep-seated interest in people. Especially people who have something we desperately want.
Body explains how what I've got is different from similar solutions they've been sold before. It clearly states this is going to be different.
Finally, the call to action tells the reader [clearly] what she needs to do next. I also sprinkled the CTA with a benefit, just in case.
Buy Your 1st Solo Ad
1st draft of this Ultimate Guide To Buying Solo Ads counted 27,930 words. Rather many words for what is widely considered an "easy" way to build a targeted email list.
That's because solo ads are much more than clicks you buy. It's also about the sales funnels you build, it's about the emails you write, the affiliate offers you pick and the numbers you analyze.
Solo ads aren't easy. But they're worth the effort. Because having done the work once, you'll reap the rewards for a vedy-vedy long time.
Whether you dream of moving out of your parents' home, walking away from a job you hate or buying your dream car – solo ads can pay for that dream. You just have to know what you're doing.
If the information I share in this guide overwhelms you, I highly suggested getting your first solo ad with a trusted solo ad seller.
I've done my best to cover every critical part of solo ads marketing, but I'm not perfect and You may still have questions. If so, please email me at support@igorsoloads.com or leave a comment below.