Did Your Last Solo SUCK?! Scroll Down To See If You Qualify For FREE Zero-Risk 'Solo Insurance' That Makes Your Order Today Totally Risk-Free -- Your Solo Ad Converts Or It's Free!



Check Out The Crazy Amount Of PROOF Below...

Then Secure Yourself Some Of The Absolute
Best Traffic Available Online... Bar None!
"I've Gotten Thousands Of Marketers
The Optins & Sales They Need
To EXPLODE Their Profits...

asda
Now Let Me Help YOU Too...
Entirely Risk-Free!"
---
Even Google Says I'm Mr. Solo Ad!
This is a screenshot from Google Keyword Research Tool. As you can see, in Google's eyes, my name is officially a "synonym" for Solo Ads.
I don't tell you this to brag... but to fill you with even more confidence that I know how to take care of you, and give you the highest quality traffic you've experienced.
Some people start solo businesses as a "hobby" or a "sideline"... but this is my entire life and the focus of all my energies!
I know how to pump quality traffic to offers like no-one else, and I've been doing it for years. When you work with me, you can sleep easy, knowing you're linking arms with someone who has a long track record of keeping his promises and delivering the goods.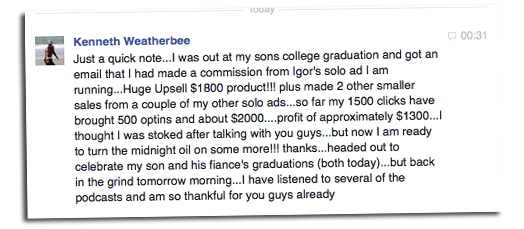 "Here's The Amazing Results My Clients
Are Enjoying Every Time They Ask Me To Take
Their Lead Generation To The Next Level..."
Vinh Luu From Australia
(MOBE & MTTB Super Affiliate):
"500 Clicks,8 Sales!"
Paulo Barrosso From London, UK
(Empower Network Super Affiliate):
"Igor Delivers Highest Quality Traffic
Across The Entire Industry!"
Dean Holland (iPro Internet Profits founder):
"Plain & Simple, Igor's Traffic Converts!"
Ashraf Ali LOVES My Clicks:
"Igor Always Gives Me More Than I Pay For!"
And He Keeps Coming Back For
More Of The Same Every Month:
"300 Clicks, 7 MTTB Sales!"
Miles Segers:


"Igor, You Truly Changed My Life!"
Sean Mckee:


"I'm Super Excited! 50% Conversion Rate And I've Already
Submitted Another Order With You..."
Devon Brown (Easiest System Ever Founder):


"Igor's The #1 Solo Guy I Buy Clicks From Every Month"

Dave Bowen:
"Igor's Traffic Is Phenomenal!"

Don Grantham:
"Thank You, Thank You, Thank You!"
Katia raves:


"Igor's Subscribers Are Awesome!"
AJ Simon Is Blown Away:


"My Optin Rate Shot Up From 22% To 43%.
Igor's Solo Ads The Best EVER!"
Mike Vlassis:


"Igor, you're an absolute LEGEND!"
Kevin Hokoana (DS Domination, Options Domination):


"Igor Genuinely Cares About Your Success!"
Bruce Rae:


"Igor's A Man of Great Integrity"
Andrew Kroot (Karatbars):
"This Guy Is Unbelievable!"
Michelangelo Lopez (Founder, University Of Internet Science):


"Using Igor's Techniques & Traffic Allowed
My Conversions To Shoot Up To 51%!"
Yury Novitsky:


"500 Click Solo Ad Brought In 12 Sales!"
Theuns Serfontein:


"Your Solo Ads Changed My Business!"

Promoting A High Ticket Product?
Dream Of Dominating An Affiliate Contest?
Email me right now to discover how one of
my 100% buyer solo ads can help you...
Here's the amazing results our existing clients enjoy when they ask us roll out the BIG-BANG cannon clicks...
"Speeding Past Andrew Fox And Shawn Casey
With Just A 200-Click Solo From Igor's Buyer List!"
"$1,000 Commission Off Just 100 Buyer Clicks!"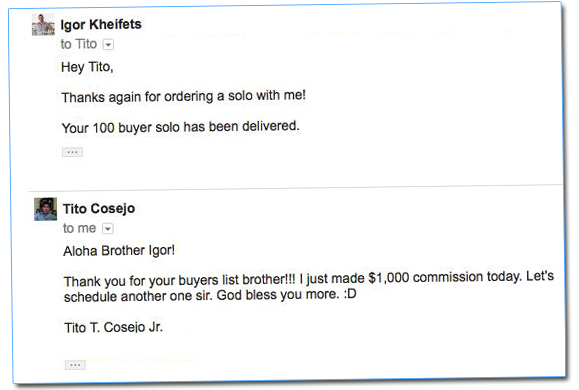 "4 Sales, 3 Upsell Sales.
More Than Paid For The Solo Ad!"
---
100% Risk-Free 'Solo Insurance'
"No More Crappy Clicks That Never Convert?"

Solo ads are the quickest & easiest way to kick-start your list building... hands down!

But they can also rapidly drain your pockets if you don't know what you're doing.

Even worse... You hold 100% of the risk...

Because no solo vendor in the world will EVER put their money where
their mouth is and GUARANTEE results...

That's why it may seem crazy when we say...
"You Get Optins Or Your Solo Is FREE!"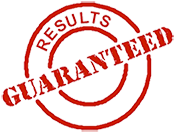 Let me and my team take all the risk away and make your 1st solo ad totally risk-free.

At no extra charge and no catch, for a VERY limited time, we're inviting you to test drive our top of the line traffic at no risk to you whatsoever.
Email Us To See If You Qualify For Zero-Risk 'Solo Insurance' Now*
*Don't worry, this won't cost you a penny. It's 100% FREE for 1st time clients!
"77% Optin Rate And $214.36 In Commissions!"

Email Us To See If You Qualify For Zero-Risk 'Solo Insurance' Now*
*Don't worry, this won't cost you a penny. It's 100% FREE for 1st time clients!


"I Can Help You Take Your List Building
To The Next, Exciting Level,
But I Need You To Read
This Critical Information First..."
After I've sent out your solo ad, I personally guarantee the purchased amount of clicks within 72 hours of sending.
As a rule all the clicks are delivered within 24 hours or less. I reserve the right to start sending traffic to the url before the provisional date.

All prices below are for the sending of the link url only and MY email adcopy.

All the prices below are for unique clicks, not raw.

Unique clicks - are clicks from different (unique) visitors. (different IP addresses).

Raw clicks - are all clicks on your link. If someone goes to your link and clicks it 6 times, you will see 1 unique click and 6 raw clicks.

I only count unique clicks towards the overall click count of your solo ad... This way, you always get more traffic than you pay for.

Your link will be sent to my list, the traffic will come from REAL PEOPLE clicking on the link in my email.
Why My Traffic Is A+++
...It's Why Marketing's Biggest Stars
Come Back To Me Again And Again...
Devon Brown, Michelangelo Lopez, Lee Mcyntire, Alex Jeffrey, Anthony Tilley, Jonthan Mizel, Rob Stafford, Miles Segers, Vick Strizheus, Folusho Orokunle, Stuart Ross, Chad Hamzey and dozens of other marketing super stars (who's testimonials you can see above and below on this page) are crazy about my clicks...

Some marketers say my clicks are most super-responsive IM/MMO traffic they've ever gotten...

So when you invest in solo ads with me, you know you work with the best... most professional traffic provider in the Internet marketing space there is...

To give you the best leads on the market… I continuously replenish my lists with anywhere from a whopping three-hundred to five-thousand new targeted subscribers on any given day.

So if you want to run more than one solo ad...

Just like many of my customers do...

Know that your ad won't be viewed by the same people as long as we space the promotions at least 2 weeks apart.

My secret weapon? (that's now yours too…)

A stealth combo of free traffic (SEO, blogging, JVs & My Own Pay Per Lead Program)…

…and paid traffic (CPV, Media Buys, WarriorForum & Facebook Ads)


How Does It Work?
I do not use rotators, pop up, pop unders or any other kind of low quality traffic.

Your URL will be the only URL included in the email and it will not be used as a "bonus" or "PS" link.

You will receive ONLY english speaking visitors to your offer(s). Over 70%+ will likely come from US, UK, CAN, AU and Europe. The rest are located all over the world.

NEW: Upon request,

free of charge

, we will happily block traffic from India, Nigeria, Pakistan and Kenya when delivering your order, so you enjoy higher lead quality WITHOUT any added cost. Plus, you'll likely convert more sales, significantly decreasing your advertising costs... All you have to do is just email us before submitting your order.

If you're promoting a country specific opportunity/offer, such as US Only or US,UK,CAN,AU,NZ only,
please email me your offer URL by clicking here and I will share more information on my geo-targeted solo ads.

IMPORTANT: If you're promoting Empower Network, Pure Leverage, EZ Money Formula, EZ Money Method, DotcomsecretsX, Illuminati, Neucopia, SFM, NMVT or Any Other Biz Opp Using a Company Squeeze Page, please contact me BEFORE ordering... and I will gladly share my "optin rocket" technique with you to dramatically boost your optins and sales.

***After I've sent out your solo, I personally guarantee the purchased amount of clicks within 72 hours of sending. Normally all the clicks are delivered within 24 hours or less. I reserve the right to start sending traffic to the URL before the provisional date.
WARNING: Someone Is
Pretending To Be Me!
My traffic has gotten so popular that some jerk is pretending to be me on Skype and trying to scam people into buying Solos, Leads & Coaching.
There's a special place in hell for this guy... but let me tell you how to quickly and easily avoid him and anyone else out to cheat you of the traffic you need:
If you buy traffic through me on Skype, simply stay away from anyone with the fake ID "igor.khefets"...
My authentic Skype ID is "igor.kheifets" (note, it has the "i")
For future reference, these are my authentic business addresses
My email is: [email protected] and [email protected]
My Facebook ID is: facebook.com/igorhelpsyousucceed
And when you place your order, simply make sure it goes only to "Slackers With Cash LTD" as the Paypal business name.
---
There's no such thing as a "traffic problem" when you unearth the simple secrets behind "self liquidating lists"...
Stop Paying For Traffic!
Have Traffic Pay You!

Free Bonus Training With Igor Kheifets
And Direct Response Copywriting Legend


John Carlton!



Imagine what it would feel like to wake up every morning knowing you no longer have a "traffic" problem.

What if the size of your ad budget was irrelevant... and what if you knew you could grow a list while having it pay for itself and even paying you.

For every dollar put in you'd make more than a dollar back, allowing you to keep reinvesting to grow your business without paying a penny out of pocket?

That would take all the risk out of building a thriving online business, wouldn't it?

It would make the whole process simple and fast... to a point where you could simply rinse and repeat and make even more money.

This is what happens when you change course from "regular" list building (hint: it's the wrong way to build a list) to "self-liquidating" list building.

You see, most "experts" got list building all BACKWARDS.

They say you should give value upfront and hope your subscribers are going to like you for it and buy something from you down the road.

They would also have you believe that "pitching" your list (or trying to promote anything without giving tons of value upfront) is the sure-fire way to drive people off your list.

No, it's not. Here's why:

"Give value first and pitch later" is a recipe for wasted effort and no pay off, because there's really only two kinds of lists you can build:

-- a list that pays
-- a list that doesn't pay

Self-liquidating lists get you paid upfront, which in turn makes your list grow even faster through re-investing profits... Ultimately, making your list building as close to FREE as possible.

And that's the only right way to do it.

How else would a newbie on a limited budget grow a highly profitable list without racking up tons of debt???

Trying to make list building work any other way is I-N-S-A-N-E. Yet, that's how most people go about it, wondering why they keep running out of cashflow.

But wait. There's more.

When you're building a self-liquidating list, you don't worry about cashflow, because you grow by reinvesting rather than reaching deeper into your little hot pockets all the time.

You never need to empty another cookie jar to buy traffic.

This is the perfect way to grow an online business.

Self-Liquidating list building not only grows your income and your subscriber base at break even or even a profit...

...But it also keeps the wife happy (which is just as important)...

...You still get to treat the kids to a movie on a Sunday night...

...And all that, while knowing your business is firing on all cylinders.

Are you ready to discover the simple secrets to building self-liquidating lists and have your traffic pay you?

Great!

Your next step, is to order one of the traffic packages below and the secret is yours!

See you inside,
Igor Kheifets

P.S. Remember:

I'm pulling this amazing bonus training down soon.

This is bad news for tire kickers who sit on their hands... People who are indecisive about achieving their goals.

It's GREAT news for you, though, if you're sick of slow and painful list building.

If you're excited to make your list grow super-fast regardless of your budget... make traffic pay you instead of you paying out the nose for leads... and fire your boss sooner than you hoped...

...Simply pick any of the high-quality click packages below and hit the order button right now. I'll rush you your training immediately!


A friendly WARNING for anyone who wants to test their offer with as few clicks as possible
I hope you've enjoyed scrolling down this page and seeing all the success my solo traffic has given to marketers all across the world.
Many of those marketers have established offers and funnels, so they simply ask me to send them as many clicks as I can!
However, if you're testing your offer, I've got your back too.
My solo packages begin at 200 clicks, which experience tells me, is the perfect tester package for someone who wants to test an offer.
Why is 200 clicks the magic number?
Well, because it gives you a much more accurate and precise test results, so you can act upon good information as you scale things up.
On the flip side, 50 or 100 clicks would simply leave you in the dark… unsure if your results are just a fluke.
Since such a tiny sample size of clicks gives you no real idea whether your funnel is firing on all cylinders, or not.
This is the reason I now warn marketers to stay away from 50 or 100 click packages. Even though many other solo sellers will be glad to sell them to you!
In stark contrast... my 200 click starter package gives you the right amount of clicks needed to receive valuable and actionable feedback from the marketplace. (Often times that feedback is, "We want this! Scale up!")
PLUS…this is risk-free test for you, because I take all the risk off your shoulders and put it onto mine.
You may qualify for 100% Solo Insurance, which will give you the clicks you need to test, without risking a single cent of your money.
That's how confident I am in my traffic to bring you the success you deserve. The next step is simply to apply to see if you qualify for Solo Insurance…
Thanks Igor, let me purchase my starter package now, and discover if I qualify for Risk-Free Solo Insurance…
"Scroll Down Now To Find Out
Why My Traffic Set The "Conversion-Bar"
So High No One Can Reach It!"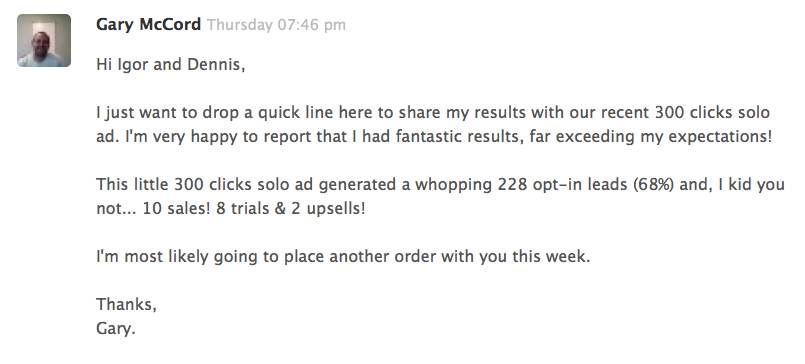 "And If Your Sales Funnel
Is Really Dialed In, It's Not Unrealistic
For My Traffic To Pay YOU!"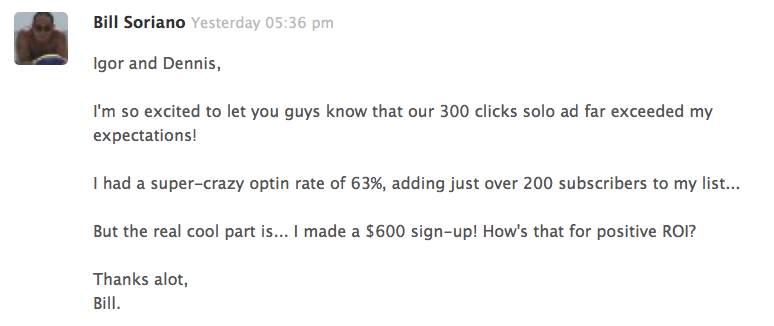 "61% and 63% Optin Rates
Are NOT Out Of The Ordinary
When You Link Arms With The Best In The Biz..."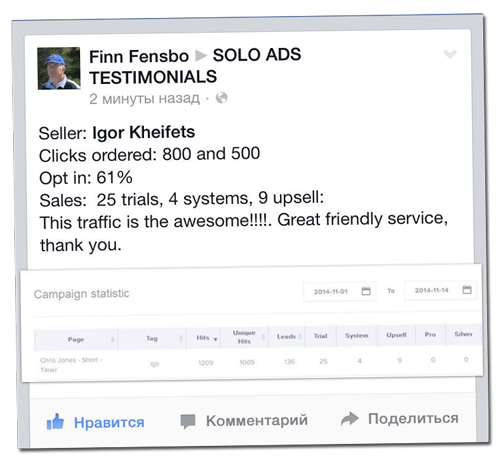 "Here's How Our Leads Stack Up
Against Other So-Called
'High-Quality' Traffic Sources!"
"Promoting High-Ticket Offers?
Great! We Got The Buyers!"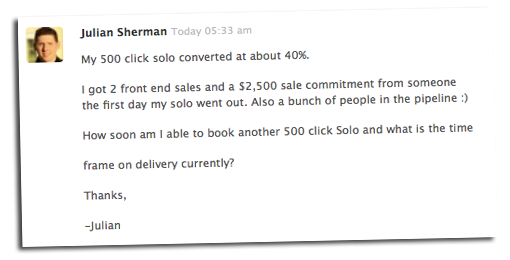 "First Time Using Solo Ads?
We'll Take Good Care Of You, Champ!"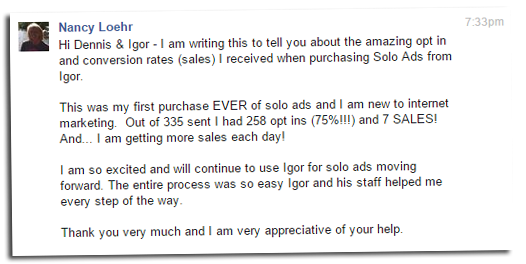 "Just Say The Word And
We'll Flood Your Site WIth
Frothing-At-The-Mouth Leads
Every-Single-Month!"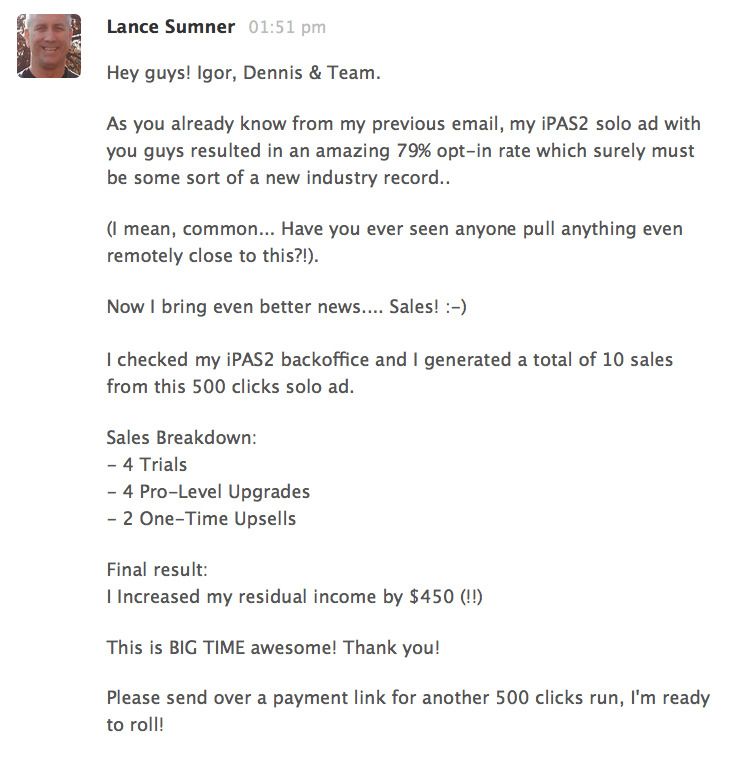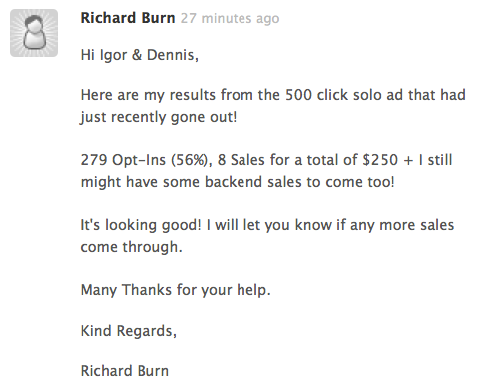 P.S. If this is your first solo ad with me, please reach out to see if you qualify for Zero-Risk 'Solo Insurance' 100% free. Click to learn more
P.P.S. When you do business with me, we will handle your order with professionalism and extreme care... and you too will quickly learn, just like Eric & Sandy below, how we make list building easy, fun and profitable for you!

Thanks Igor, let me purchase my starter package now, and discover if I qualify for Risk-Free Solo Insurance…